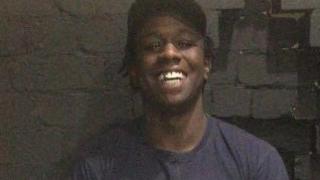 Two men and three teenagers have gone on trial accused of a gangland murder described as being "reminiscent of a Hollywood film".
Kamali Gabbidon-Lynck, 19, bled to death after being stabbed at a hair salon in Vincent Road, Wood Green.
He was killed in an attack on 22 February as a result of "a longstanding and mutual hatred" between two rival gangs, the Old Bailey heard.
Another man, Jason Fraser, 20, was shot and stabbed eight times but survived.
Tyrell Graham, 18, and four others who cannot be named for legal reasons, deny murder and attempted murder.
The jury heard the five defendants and two other men had gone to Wood Green armed with knives, a handgun and a shotgun.
Mr Gabbidon-Lynck ran into a hair salon when he was confronted by the group.
The court heard the teenager, who was linked to a North London gang called the WGM, died after one of the knife blows severed an artery.
His alleged killers were said to be linked to Tottenham gang the NPK.
They were part of "an armed group who chased down their targets, they produced their weapons and they butchered them", said prosecutor Oliver Glasgow, QC.
Members of the public, including mothers with pushchairs, ran for their lives as the violence unfolded, the jury heard.
Mr Glasgow added it was "more reminiscent of a Hollywood film than a winter's night in north London".
The trial continues.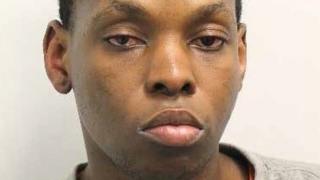 A drug dealer who supplied serial killer Stephen Port has been jailed for at least 31 years for the murder of a businessman.
Gerald Matovu, 26, killed Eric Michels, 54, with a fatal overdose of GHB – the same drug his former customer used to kill four men.
He was one of 12 men targeted by Matovu and lover, Brandon Dunbar, 24, over a 19-month period, The Old Bailey heard.
Sentencing, judge Anne Molyneux QC said Matovu was an "experienced poisoner".
Matovu had previously admitted selling GHB to Port, but had denied killing Mr Michel, who was found dead in bed by his 14-year-old daughter.
The pair met through the Grindr app and took a cab back to Mr Michels' flat on 18 August 2018.
Passing sentence, the judge said Matovu, who now identifies as female, was a "highly dangerous predator".
He was jailed for a total of 39 offences relating to 14 victims.
Mr Michel's ex-wife, Diane Michels, said the two men had a "callous disregard" for his life.
"We have to live with the knowledge the last person Eric saw was the person who took his life", she said.
The court heard Matovu and his partner Dunbar targeted victims through gay dating apps, carrying out a string of thefts and frauds.
They drugged their victims, calculating they would be "too embarrassed to report what happened", said the judge.
Co-defendant Dunbar, of Forest Gate, east London, was jailed for 18 years and told he must serve at least two-thirds in prison.
The judge also imposed an extended sentence of five years, to be served on licence.
Jurors were not told about Matovu supplying drugs to Port, who was given a whole-life term for the murders of four young men he poisoned with GHB.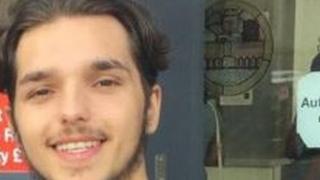 A 14-year-old boy accused of a stabbing murder has been remanded to a secure unit.
The teenager, from Barking, appeared at Thames Magistrates' Court on Saturday morning over the killing of Santino Angelo Dymiter, from Plaistow.
Eighteen-year-old Mr Dymiter was found injured on the afternoon of 26 August by emergency services at Chadd Green, east London.
The judge remanded the 14-year-old to appear at the Old Bailey on Tuesday.
The boy, who cannot be named for legal reasons, is also accused of having a knife in a public place.